Encouraged by renewed interest in the Silk Road – for cultural exchange, trade and tourism – the United Nation's World Tourism Organisation (UNWTO) decided to revive the ancient routes as a tourism concept, uniting three continents once more in a project encompassing over 12.000 km.
WFTGA as an affiliate member of UNWTO is part of the Silk Road Task Force and takes part in Task Force Meetings, Ministers Meetings as well as workshops and other initiatives. Through this project the importance of professional tourist guides is being promoted to tourism stakeholders and decision makers in Silk Road member countries. Thanks to this initiative WFTGA promotes its standards through training programmes delivered to colleagues from this vast region.
As Peter Frankopan, the author of "The Silk Roads" says "… the bridge between east and west is the very crossroads of civilization. Far from being on the fringe of global affairs, these countries lie at its very centre – as they have done since the beginning of history." Tourism is becoming very important in the Silk Road countries and WFTGA is proud to be there.
Ivana Curuvija, previous Head of the WFTGA Training Division and Lead International Trainer is WFTGA's contact for the Silk Road Initiative.
So far WFTGA has delivered Training Courses for Silk Road Heritage Guides in Uzbekistan, Kazakhstan, Turkmenistan, Tajikistan and Kyrgyzstan, attended by tourist guides from the wider region. During the global pandemic WFTGA worked with UNESCO Almaty to deliver a blended programme for Silk Road Heritage Guides with in-person training in Samarkand, Uzbekistan in Nov 2021.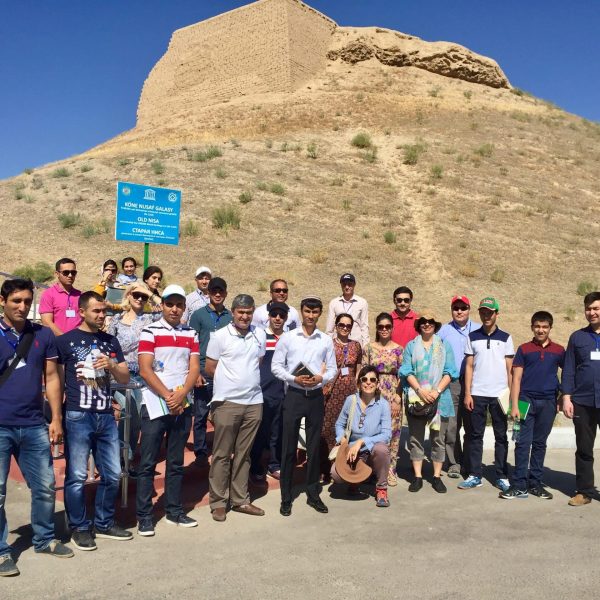 Training Handbook for Silk Road Heritage Guides
In 2020 UNESCO Almaty, jointly with WFTGA, published a revised and extended edition of the 'Training Handbook for Silk Road Heritage Guides' , which can be downloaded here: